Institute of Policy Studies in Sri Lanka Chairman Dr. Razeen Sally (centre) moderates the panel discussion involving from left Softlogic Holdings PLC Investments Head Niloo Jayatilake, Central Bank Governor Dr. Indrajit Coomaraswamy, SEC Director General Vajira Wijegunawardane and CSE CEO Rajeeva Bandaranaike
The 'Invest Sri Lanka' Investor Forum organised by the Colombo Stock Exchange (CSE), the Securities and Exchange Commission of Sri Lanka (SEC) and the Singapore –Sri Lanka Business Association (SLBA) was held on 2 March (Friday) at the Four Seasons Hotel Singapore and made a strong case for investment flows into Sri Lanka.
The event drew a strong turnout of leading Asia–based institutional funds and other investors across multiple industries and was graced by Prime Minister Ranil Wickremesinghe as the keynote speaker and the Minister for Trade and Industry in Singapore S. Iswaran.
A Sri Lankan delegation including senior representatives of the CSE, SEC, the Central Bank of Sri Lanka, 17 listed companies and 12 stockbroker firms collectively pitched for further investment flows into Sri Lanka, a call that was also boosted by strong endorsements for Sri Lanka by the Singapore Business Federation (SBF), CHEC Port City Colombo, Shangri-La Hotels and Resorts, Aberdeen Standard Investments Asia and DBS Bank.
Prime Minister Ranil Wickremesinghe, making the keynote address at the event, stated that Sri Lanka is on the path of becoming an attractive place for business in South Asia, one of the fastest growing regions in the world and said: "This also means that for you – in Singapore – Sri Lanka becomes a very advantageous hub to do business, to live, to invest in, to use as a springboard to South Asia and the Indian Ocean region, and as a link between South East Asia and South Asia."
The Prime Minister went on to emphasise on commitments made by the Sri Lankan Government towards economic reforms and improving the ease of doing business in Sri Lanka and stated: "We are very focused on fiscal consolidation, and the results are already visible – the tax to GDP ratio has improved, and ratings agencies are providing favourable outlooks. Next month, a new Inland Revenue Act will come into effect, providing a progressive, modern, and transparent income tax policy."
"We are undertaking many policy initiatives to incentivise direct private investment both foreign and local. In 2018, you will see the results of our commitment to improving the ease of doing business. By mid-2018, the time taken to register a new business will reduce from 6 days to just 1 day. Finding land and registering property will be halved from 51 days to 26 days, and the procedures reduced from 9 steps to 2 steps. We are introducing an 'Electronic Single Window' that will link dozens of state agencies dealing with international trade through a few clicks," the Prime Minister added. Commenting on further improving trade and economic cooperation with key international partners, the Prime Minister said: "The Singapore-Sri Lanka FTA is part of a broader strategy of looking East to renew our trade relationships. While we focus on growing and sustaining our traditional markets of the US and Europe, we have begun to diversify our markets towards Asia and focus on plugging into Asian supply chains. This FTA is our first agreement with a South East Asian country – and we envisage this as a first step towards closer integration with the Regional Comprehensive Economic Partnership Agreement."
"We know we can leverage on our strategic location to expand market access. Therefore we are expanding our trade and investment relationships with a diverse set of countries, such as the US, EU, India, China, Singapore, Japan, Malaysia, Thailand, and Indonesia," Wickremesinghe added.
The Minister for Trade and Industry in Singapore, S. Iswaran, speaking at the event stated that the Singapore-Sri Lanka FTA is a clear demonstration of Sri Lanka's commitment to re-integrate into the global economy and bring more economic opportunities for its businesses and the people of Sri Lanka, and said: "For Singapore, this agreement marks another step-forward in our commitment to free and open markets, and to deepening our bilateral ties with Sri Lanka, and through Sri Lanka into the South Asian region."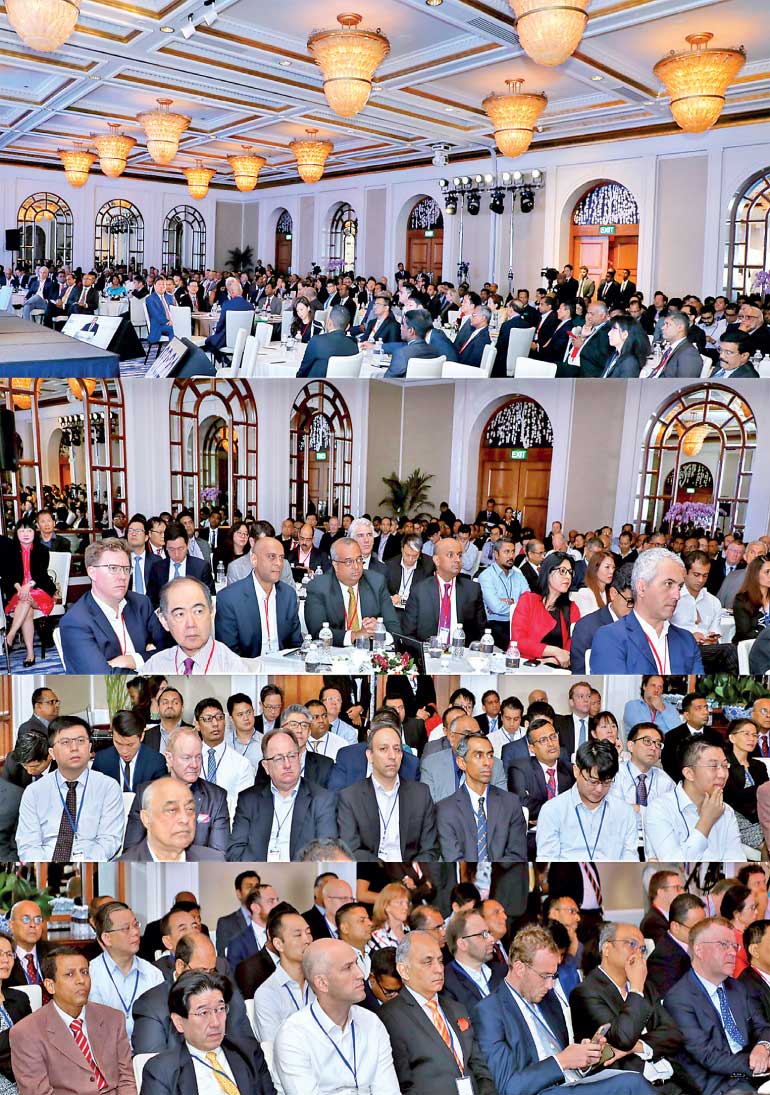 "We are already starting to see the benefits of the Sri Lanka-Singapore Free Trade Agreement – the positive news surrounding the agreement has led to an uptick in interest from Singapore companies to partner Sri Lankan companies to invest in opportunities both within Sri Lanka, and to use Sri Lanka as a hub to expand into the broader South Asian region. Indeed, the strong turnout to this conference is testimony to the growing interest in opportunities in Sri Lanka," Iswaran added.
Central Bank Governor Dr. Indrajit Coomaraswamy, speaking on the economic outlook at the event, outlined a number of positive trends and developments experienced in the Sri Lankan economy, including record exports and inward direct investment in 2017 and stated that such developments provide the indication that Sri Lanka is beginning to benefit from the reforms implemented to stabilise the economy and foster growth.  The Governor noted that there are certainly grounds for cautious optimism that the macro-economic trends in Sri Lanka are heading in the right direction.
CSE Chairman Ray Abeywardena, speaking at the event stated that a new and improved backdrop of cooperation between Singapore and Sri Lanka will deepen economic ties and facilitate greater investment flows between the two nations. Commenting on the stock market, Abeywardena said: "We entered 2018 on the back of a record year last year in terms of foreign investment. Foreign investors bought into Sri Lankan equities last year more than any other year in our history, which is a strong endorsement of the value proposition the stock market offers at present. Sri Lanka is presently being pin pointed by investors and market commentators around the world, as one of the most attractive frontier markets. And the investment case for the Sri Lankan market is only getting stronger."
In addition, the Forum also featured a prominent line-up of other speakers including Sri Lankan High Commissioner in Singapore Nimal Weeraratne, Kuok (Singapore) Limited Chairman Kuok Khoon Ean, CHEC Port City Colombo Chief Sales and Marketing Officer Liang Thow Ming, DBS Group Research Chief Economist and MD Taimur Baig, Aberdeen Standard Investments Asia Managing Director Hugh Young, Softlogic Holdings PLC Investments Head Niloo Jayatilake, SBF Honorary Treasurer Lawrence Leow and SLBA President Angelo Perera.
Central Bank Governor Dr. Coomaraswamy, SEC Director General Vajira Wijegunawardane, CSE CEO Rajeeva Bandaranaike and Softlogic Holdings Investments Head Niloo Jayatilake also featured in an engaging panel discussion moderated by the Institute of Policy Studies in Sri Lanka Chairman Dr. Razeen Sally.
A series of investment focused, pre-scheduled one-on-one/group discussions between investors and participating Sri Lankan listed companies were also organised as a part of the Investor Forum, where a number of leading international and Asian institutional frontier market focused funds and other investors showed a keen interest in discussing the investment opportunities available in Sri Lankan listed companies.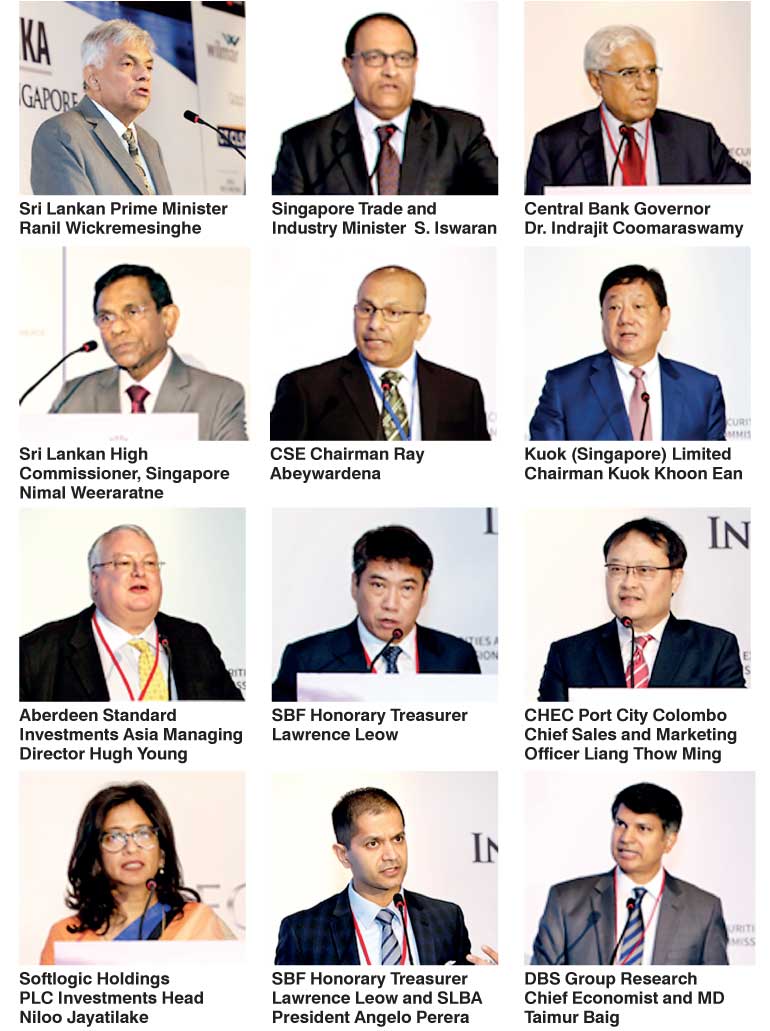 John Keells Holdings PLC, Commercial Bank of Ceylon PLC, Hatton National Bank PLC, Hemas Holdings PLC, Sampath Bank PLC, DFCC Bank PLC, National Development Bank PLC, Access Engineering PLC, Tokyo Cement Company (Lanka) PLC, Seylan Bank PLC, Lion Brewery Ceylon PLC, Hayleys PLC, Singer Sri Lanka PLC, Softlogic Holdings PLC, LAUGFS Gas PLC, Sunshine Holdings PLC and MTD Walkers PLC attended the events.
The Invest Sri Lanka initiative in Singapore was supported by the Singapore Business Federation– Strategic Partner, DBS Private Bank Singapore – Platinum Sponsor, Capital Alliance Partners – Platinum Sponsor, Wilmar International Limited – Platinum Sponsor, BP de Silva Holdings– Platinum Sponsor, Acuity Partners – Gold Sponsor, Asia Securities – Gold Sponsor, Ceylon Guardian – Gold Sponsor, CT CLSA Securities – Gold Sponsor, Dwellings Group – Bronze Sponsor and the Oxford Business Group - Exclusive Publication Partner.
The Sri Lankan High Commission in Singapore, the Singapore International Chamber of Commerce, the Singapore Indian Chamber of Commerce and International Chamber of Commerce Sri Lanka were Promotional Partners of the initiative.
The Invest Sri Lanka initiative generated a keen interest in both the international media and the media in Singapore, where senior representatives from CBSL and the CSE strengthened Sri Lanka's investment case through a number of interviews and media appearances during the period.
Source - ft.lk